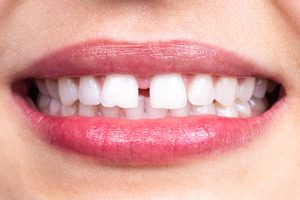 If there's a gap between your teeth that's wider than half a millimeter, it's known as a diastema. While this typically isn't a major issue for your oral health, it can still be less than ideal from an aesthetic point of view – and that can be especially true when it comes to a diastema between your front two teeth. Luckily, your local dental practice may be able to help you correct this cosmetic issue. Here's a brief look at the possible causes and solutions for a gap between the front teeth.
What Can Cause a Gap Between Your Front Teeth?
There's actually more than one possible reason why there might be a little too much space between your front teeth. Here are a few common scenarios:
The teeth might not be the right size for your jawbone.
The upper lateral incisors right next to the upper front teeth may be too small.
The teeth may be coming loose as a consequence of gum disease.
You might be pushing your tongue against your front teeth whenever you swallow your food.
As a child, bad habits such as thumb-sucking caused your teeth to move out of their proper positions.
What Can You Do About a Gap Between Your Front Teeth?
If you're bothered by the space between your front teeth, you can talk to your dentist to see what they suggest. Based on the size of the gap and other factors, they may recommend one of the following treatments:
Cosmetic Bonding: Your dental team can apply composite resin to your front teeth in order to close the gap between them. This particular treatment is commonly recommended for making smaller corrections, and it can often be done in just one appointment.
Veneers: Another potential solution for gaps between your teeth (as well as other cosmetic problems you may be struggling with) is veneers. These are thin shells that can completely cover the fronts of your teeth, thus hiding the problem from view.
Traditional Braces or Invisalign: Of course, when it comes to unevenly spaced teeth, an orthodontic solution is often worth considering. Traditional braces can be beneficial for patients of all ages, but many adults and teenagers prefer Invisalign since it's more discreet and doesn't come with any diet limitations.
Closing the gap between your front teeth can be good for your self-esteem, and it may even help you make a better first impression when meeting people for the first time. If you're tired of being distracted by a noticeable space whenever you see your smile in photographs, set up an appointment with your dentist to see what they have to say.
About the Author
Dr. Nazila Ganji has been taking care of smiles for well over 25 years. She has completed many hours of continuing education training in cosmetic dentistry, Invisalign, and other topics. She can offer a number of solutions for her patients when it comes to gaps between the teeth. To schedule a consultation with Dr. Ganji at Cosmetic & Orthodontic Family Dentistry in Herndon, visit her website or call (703) 793-3030.