Cosmetic Dentistry – Herndon, VA
Bringing You Brighter Smiles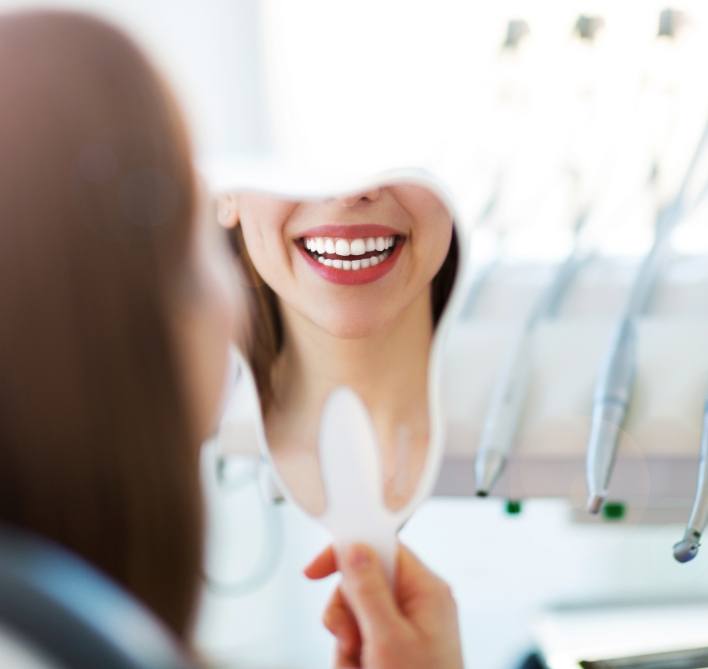 If you're unhappy with any aspect of your smile, we invite you to consider making a change. At Cosmetic & Orthodontic Family Dentistry in Herndon, VA, we offer a variety of cosmetic dentistry solutions that enable patients to transform their teeth into the picture-perfect smile of their dreams. Dr. Nazila Ganji and her team have years of training and experience, and welcome patients from Herndon, Chantilly, and other nearby communities. Contact our dedicated team to find out more or schedule a cosmetic dentistry consultation today.
Why Choose Cosmetic & Orthodontic Family Dentistry for Cosmetic Dentistry?
Prep-Free Lumineers Available
Virtual Smile Design for Previewing Results of Care
Dentist with 20+ Years of Experience
Veneers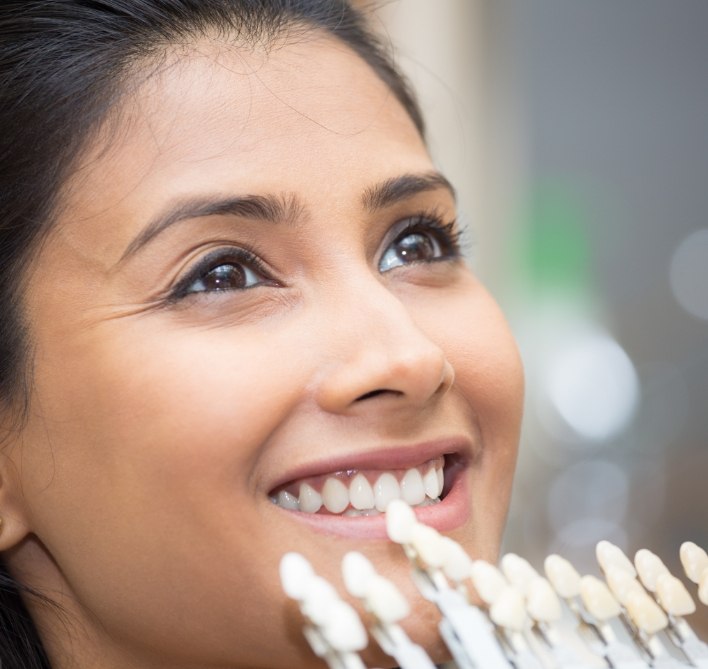 Patients who want to correct a number of chips, cracks, gaps, and stains in patients' smiles may want to consider porcelain veneers. In two short visits to our office, we can completely conceal any number of cosmetic flaws seamlessly. Veneers are thin sheaths of dental-grade porcelain that fit over the fronts of patients' teeth. During an initial appointment, we remove a small amount of enamel from the front-facing surface of teeth, capture bite impressions used by our lab to craft the veneer and place a temporary restoration in order to protect teeth. Once we receive the final veneer, patients return to our practice to exchange the temporary for the custom veneer.
Lumineers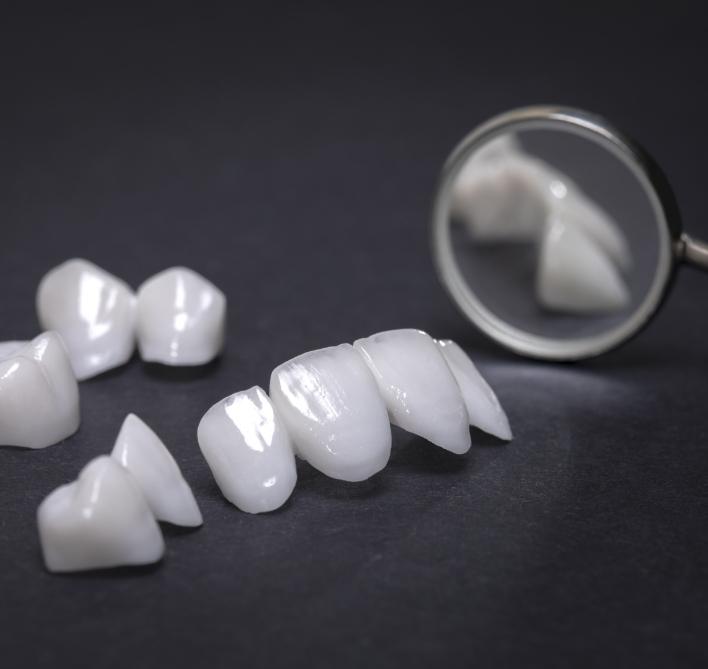 Patients interested in porcelain veneers who have concerns about the removal of tooth enamel or simply have less significant cosmetic flaws may want to consider Lumineers as an alternative. These ultrathin veneers allow our team to conceal cosmetic flaws similarly to traditional veneers without removing enamel prior to treatment. For this reason, patients are often able to reverse their Lumineers procedure if they change their minds. This thinner veneer material still offers patients durable, long-lasting results.
Metal-Free Crowns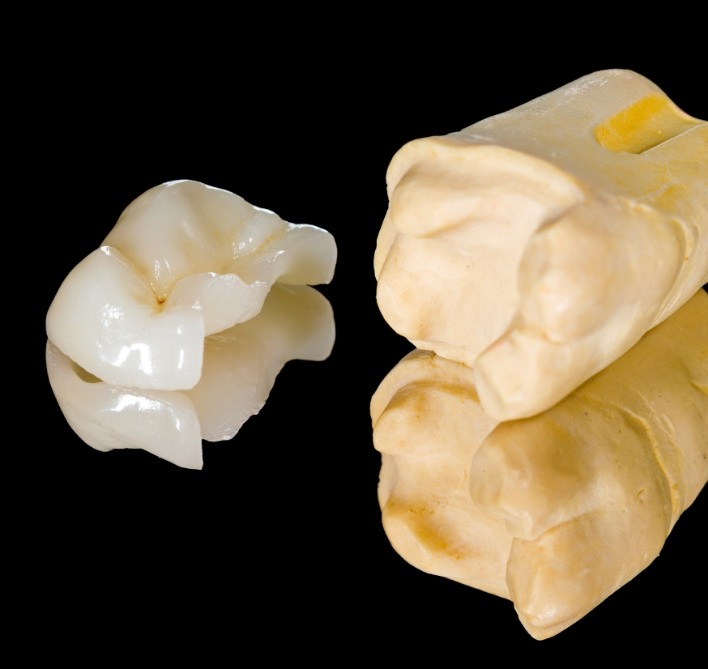 Are you worried about how your smile will look after getting a dental crown? Nowadays, dark-colored metal isn't your only option for repairing your teeth. You can also get a metal-free crown made out of zirconia, a material that closely matches the color and light-reflective properties of natural teeth. It's an aesthetically friendly option that's also very durable, so you'll be able to take full advantage of your newly restored smile.
Cosmetic Bonding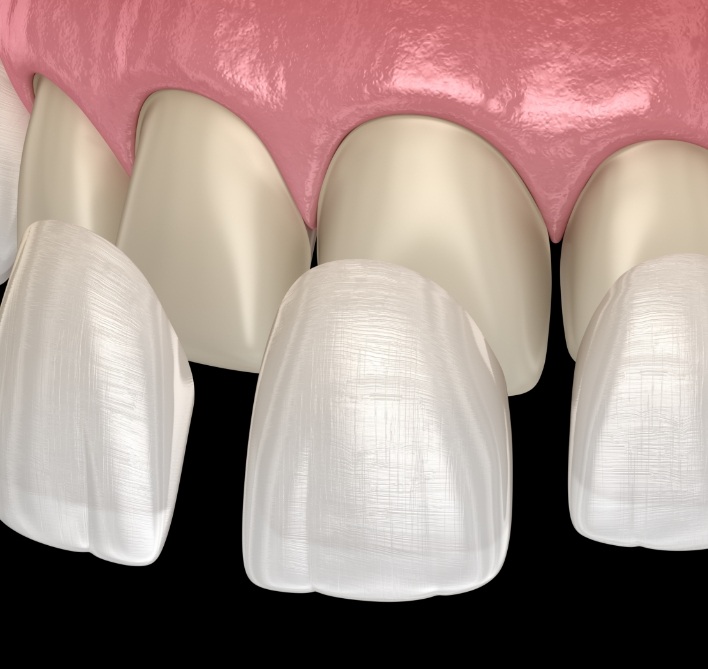 Cosmetic bonding is the quicker, more affordable alternative to veneers. The procedure involves shaping a cosmetically damaged tooth with a small amount of composite resin, hiding chips, stains, and other flaws. While veneers are better suited for making extensive changes to the entire smile, cosmetic bonding is the treatment of choice for those who only need to make a few small corrections; it can be completed in just one visit, and the process can take a matter of minutes!
In-Practice Teeth Whitening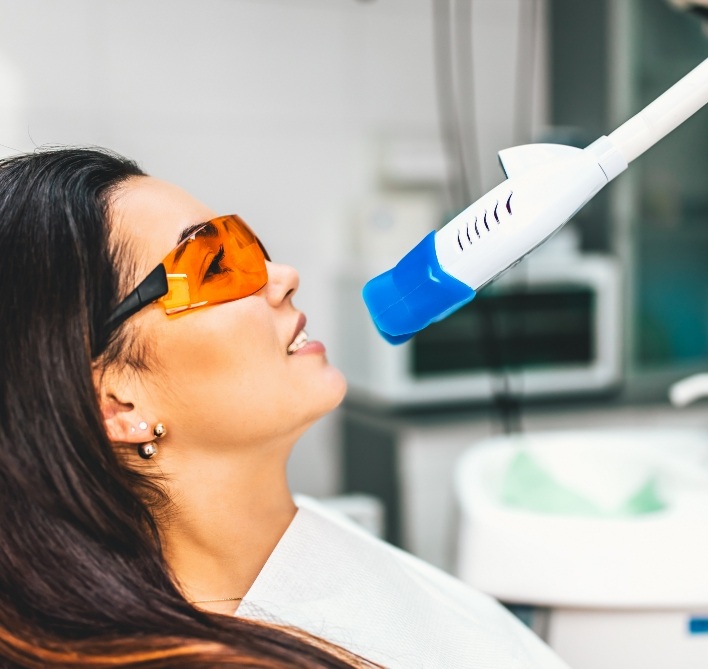 Many patients visit us every day who want to know how they can brighten their smiles, and all too often, these same patients have wasted time and money on over-the-counter whitening products that promise dramatic transformations they are unable to deliver. Professional teeth whitening offers patients safer, more predictable results. We offer both in-office and at-home teeth whitening treatments. In-office whitening provides the fastest solution, but patients with sensitive teeth may struggle with this treatment. During a cosmetic dentistry consultation, Dr. Ganji helps patients determine whether in-office teeth whitening is the right solution. When patients choose the in-practice whitening option, we're able to deliver results up to ten shades brighter in as little as one hour. Many patients are happy allowing our professionals to complete their whitening procedure, but for those who prefer whitening from the comfort of home, we offer custom at-home solutions as well.
At-Home Teeth Whitening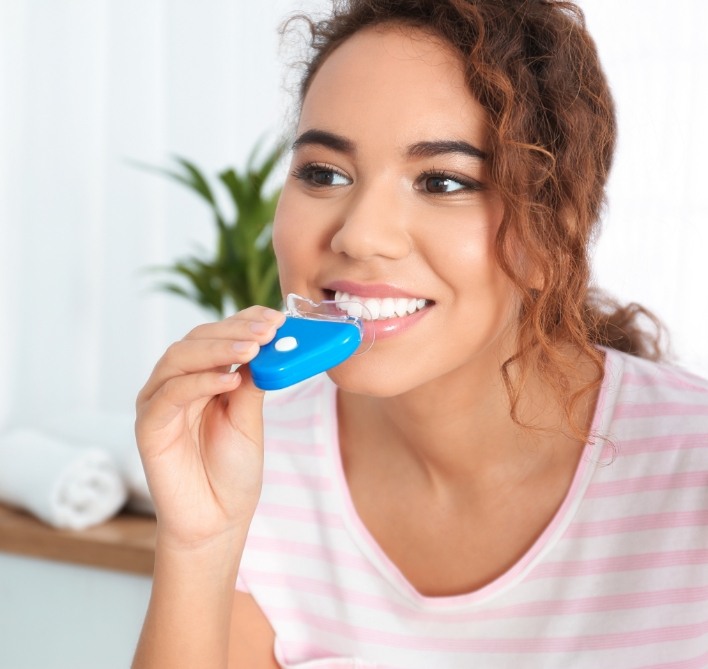 Unlike store-bought whitening products that use one-size-fits-all application trays and low levels of active whitening ingredients, our professional take-home whitening kits include custom-crafted application trays and professional-grade whiteners. For this reason, our at-home whitening kits make it possible for patients to achieve the same results as in-office whitening, teeth up to ten shades whiter, over the course of about two weeks of daily application. The process is simple. Patients place a small amount of whitening gel in each application tray. Then, the trays are worn for a predetermined amount of time, until patients achieve their desired results. Take-home whitening is also a great way to touch up the results of in-office whitening as they begin to diminish over time.
Gum Recontouring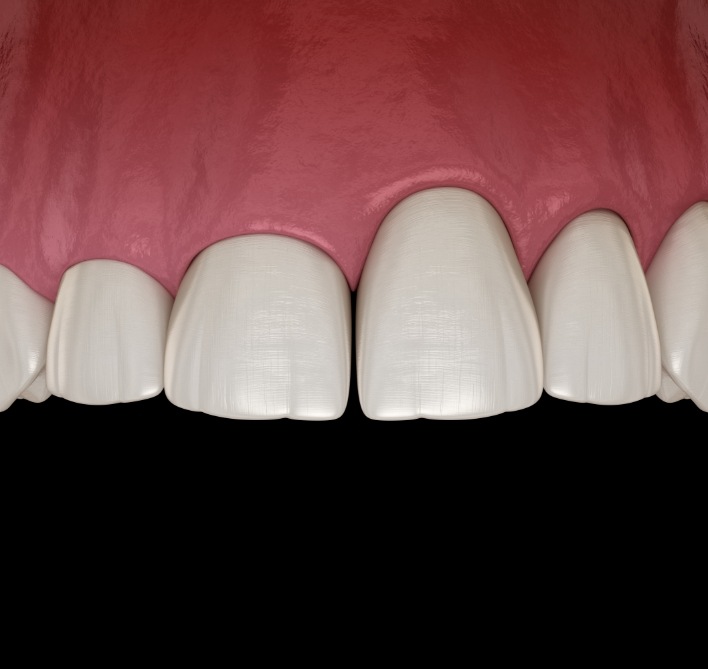 Sometimes genetics can leave you with a "gummy" smile that makes your teeth look small. You might also have an uneven gum line that tends to draw the eye whenever you smile. We can correct cosmetic gum issues with gum recontouring; this simply involves removing a small fragment of gum tissue in carefully chosen areas. We can expose more of your smile and restore balance to your gumline so that you can show off your pearly whites without reservation.
Virtual Smile Design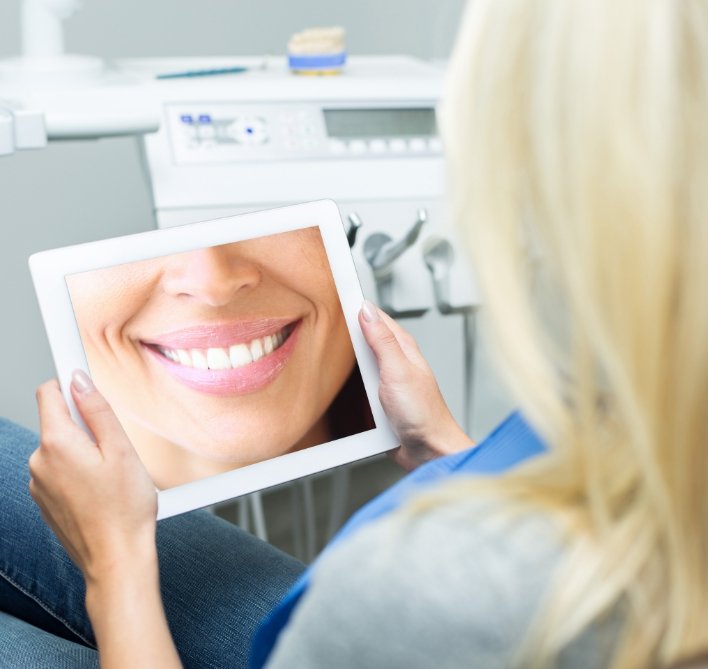 What will your new smile look like once you've gotten veneers or completed gum recontouring? We can show you with our virtual smile design software, which alters pictures of your current smile to simulate the results of a number of cosmetic treatments. By using this technology to explore your options, you'll have a clear visual of what the results of a given treatment will be so that you know what to expect moving forward.
Invisalign FAQs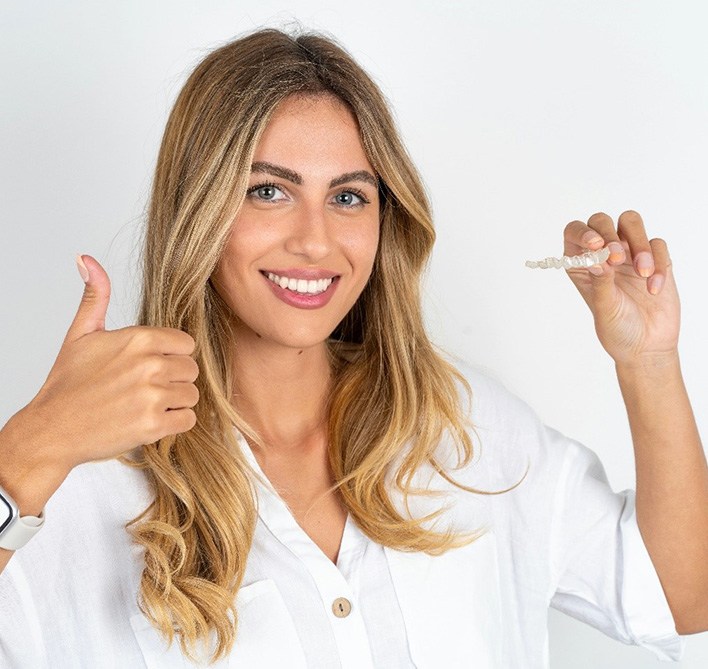 Have you ever wondered who invented Invisalign, what the average treatment timeline is, or what happens after you've worked through the series of trays? Good news: you can find the answers to these questions and more in this next section! Of course, if you have any specific questions about Invisalign that you would like to speak directly with our Herndon team about, then you're also welcome to give us a call or schedule a consultation.
Who Invented Invisalign?
The inventors of one of the most innovative orthodontic treatments were two students, Zia Chishti and Kelsey Wirth. They envisioned an alternative to traditional braces that would allow patients to straighten their teeth discreetly, and they worked tirelessly to bring their vision to life. Well over two decades later, patients are still benefiting from their efforts to revolutionize the field of orthodontics!
How Long Does Invisalign Take?
The length of treatment can vary. After all, there are numerous factors that need to be considered, including the severity of your misalignment and how well you follow the treatment guidelines, like wearing your aligners for 20-22 hours a day. With all of that said, the average Invisalign treatment is just 12 to 18 months, which is considerably shorter than traditional braces (the metal brackets and wires can take 24+ months to deliver results).
What Happens After Invisalign?
Once you've worn all of your trays and achieved the straight teeth you've always wanted, we need to take proactive measures to preserve the results. That's why we will give you a custom retainer. Don't worry – there are discreet retainers available. In other words, you won't have to immediately cover up your gorgeous smile. You do, however, have to wear it consistently so your teeth don't drift out of their perfectly aligned positions. We will provide you with specific instructions depending on your unique case, but it's a good idea to get into the habit of wearing it every night.
What if My Invisalign Broke?
If one of your aligners breaks, don't put off calling us. Worse, don't attempt to fix them by using super glue or another household adhesive. Remember, products like these contain toxins that are not safe to ingest, so there's a good chance you'll end up negatively impacting your orthodontic treatment and your overall health. That's why we encourage our patients to instead get in touch with us right away. Over the phone, we can learn more about what happened and let you know the best course of action to get you back on-track with your treatment plan.
Can You Get Invisalign After Braces?
That decision is ultimately up to your dentist. For cases of severe malocclusion, traditional braces may be the only option. However, there are some patients who have hybrid treatment plans, which start with traditional braces and end with Invisalign clear aligners.
Who is Not Eligible for Invisalign?
It goes without saying that extremely young children are not candidates for Invisalign. However, patients who have all of their permanent teeth, have healthy teeth and gums, and have mild to moderate malocclusion are usually a good fit for clear aligner treatment! As with most dental treatments, candidacy is determined on a case-by-case basis since important factors – including if you smoke – need to be considered as well.