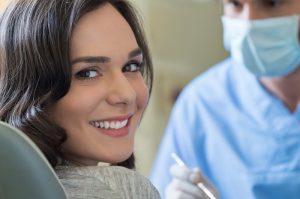 You can't plan for a dental emergency — and it's something that might pop up at the most inconvenient of times. When the unexpected strikes, it is important for your oral and overall health that you know just how to react. Continue reading for tips from your dentist on what to do in a dental emergency. The first step? Keeping your cool.
What Is a Dental Emergency?
A dental emergency is anything that affects your oral health and needs to be treated promptly. If you have broken something in your mouth (like a tooth or piece of dental work) or if you are bleeding, you are having a dental emergency and need care right away. Don't waste any time trying to be brave and tough it out — often, seeking prompt treatment is important for saving your smile.
Here are some of the most common dental emergencies:
A knocked out tooth

Toothache or an abscessed tooth

Broken or dislodged tooth

Something (foreign object) lodged between teeth

Lacerated gums
In the above cases, your dentist is often capable of providing better care more promptly than the emergency room. If, however, you or a loved one have broken a bone in the jaw or are bleeding profusely for more than 10 minutes, seek emergency medical care immediately.
Here's What to Do Next
The first step you should take is to control the situation. If it's your own smile, take a few breaths and assess what has happened. Help a loved one or child stay calm. Pick up and store any broken or knocked out pieces for possible reattachment. Place a clean gauze or cloth to a bleeding area to stop or slow the flow of blood. Once you have the situation under control, place a call to our office. We can provide additional first aid tips and schedule a time for you to come in as soon as is necessary given the situation.
A toothache may be treated with an emergency root canal, which can stop pain and rescue the tooth from extraction. If you make it into our office within two hours of losing a tooth, we can often reattach it as long as the root has not been damaged. Whatever treatment is appropriate for your smile, you can feel confident knowing you'll be out of pain soon when you partner with our expert team.
Preventing Dental Emergencies
There are some steps you can take to safeguard your smile against dental emergencies. Some of the most important ones include…
Visit your dentist every six months for a checkup and cleaning

Wear a sports guard if you play contact sports

Invest in a protective night guard for bruxism

Avoid habits like biting your nails and eating ice

Never open packages or cut through plastic with your teeth
If, however, you take all the right steps and a dental emergency still happens to you, remember that you have an emergency dentist in your side!
Meet the Doctor
Dr. Nazlia Ganji is a trusted dentist serving Herndon and the surrounding area with high-quality dental care. To learn more about her services or to schedule an appointment for superior dentistry, you are invited to contact the office at (703) 793-3030.