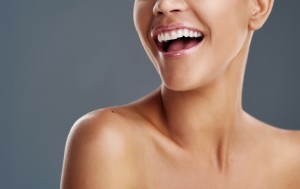 Is having a straight smile something you've always wanted? It may seem intimidating and expensive to fix your teeth permanently, but little do you know, there's multiple options available for you. Most patients assume they would need to get traditional metal brackets and wires to move their teeth to their correct positions. Although traditional braces are a great method for straightening your teeth, there have been many advances in dentistry that allow for more options. Luckily, your dentist in Herndon is here to explain three options that can help you achieve that straight smile of your dreams with porcelain veneers, traditional braces, or Invisalign clear braces.
Porcelain Veneers
If you're interested in a fast, effective solution to fixing your crooked teeth, porcelain veneers may be the solution for you. In fact, this cosmetic procedure can mask several flaws at once! Porcelain veneers are thin, lightweight shells of dental ceramic. They cover the front surfaces of your teeth to hide the imperfections you're less than proud of. If you not only want to fix your overlapping teeth, but also have some other cosmetic flaws, porcelain veneers can help you also fix the following imperfections:
Irreversible stains
Chipped teeth
Worn teeth
Crooked teeth
Misshapen teeth
Uneven spaces and gaps
Traditional Braces
Metal braces have been a trusted solution for misaligned or crooked smiles for years now. These are great especially if the patient is younger. Braces provide the stability to still straighten a child's teeth even as their mouth continues to develop. Traditional braces provide awesome, reliable results. In just one to two years, this orthodontic treatment can guide teeth into their proper positions. Having a straight smile will dramatically improve your oral health and boost your confidence. Traditional braces offer these other benefits as well:
They are the most affordable option in orthodontics.
You can depend on their reliable results.
You can match your orthodontic treatment to your personality with colored elastics.
You don't have to worry about losing pieces because the treatment is bonded to your teeth.
Invisalign Clear Aligners
Improving your teeth has always been something on your to-do list, but you simply don't want to deal with the hassle of metal brackets, wires, or the timely process that most straightening treatments require. No worries! Dr. Ganji offers a better solution: Invisalign in Herndon. Here are some of the benefits you would experience with this straightening alternative compared to other options:
Patients with metallic allergies can still straighten their teeth.
Gently, gradual shifts teeth from a light pressure.
Custom fitting aligners made just for you for personalized treatment.
The aligners are practically invisible.
The aligners are removable so you can eat the foods you've always enjoyed.
Your dental routine stays the same since you can remove your aligners when it's time to complete your dental routine.
It's time for a consultation!
Getting straighter teeth is easier than ever and it all starts with a simple phone call. Our friendly office team would be happy to schedule a consultation with Dr. Ganji.