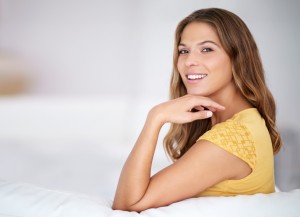 Living with an imperfect teeth causes a significant impact on your confidence and enjoyment for life. You may feel like a flawed smile is something you must learn to live with. However, you can get a new smile this year with your dentist in Herndon. Cosmetic dentistry allows you to transform your teeth into those of perfection using simple and effective procedures. Now, you can beam with confidence this year.

What is Cosmetic Dentistry?
Cosmetic dentistry uses an array of specialized procedures to enhance the aesthetics of your smile. However, the procedures do not just improve the appearance of your teeth. Often, they will actually improve your oral health as well. For example, if you suffer from misaligned teeth, orthodontics will not just give you a straight smile, but also decrease your risk for tooth decay and gum disease.
Dr. Nazila Ganji will revitalize your smile using procedures tailored to your needs. With a smile you love, you will increase your confidence. As a result, you will likely become more outgoing and give the right first impression in social and career settings.
How Can Cosmetic Dentistry Help Me?
In the past, cosmetic procedures were considered unattainable for the average person. However, advancements in dentistry now allow your cosmetic dentist in Herndon to provide affordable treatments. A comprehensive treatment plan is created based on your individual needs and the results you want to achieve. Your treatment plan can include one or more of the following procedures:
Professional Teeth Whitening: Professional whitening treatments deeply penetrate the enamel to lift away tough tooth discoloration. Our in-office whitening treatment will give you instant results in as little as an hour. If you prefer, you can achieve the same results in about two weeks using our at-home whitening kit.
Tooth-Colored Fillings: Amalgam fillings are effective, but they do cause a dark spot in your smile. Now, your fillings can match your enamel color using a composite resin material. Tooth-colored fillings are great for treating tooth decay without causing a blemish to your smile.
Porcelain Veneers: Gain a shapelier, proportionate, and more attractive smile by hiding cosmetic flaws with porcelain veneers. The minimally invasive procedure hides chips, cracks, discoloration, and minor alignment concerns using an option that looks natural and lasts for several years.
Lumineers: Lumineers are similar to porcelain veneers, but require significantly less enamel to be removed during the bonding process. The ultra-thin veneers conceal cosmetic flaws while also being reversible for those who may not want to commit to more permanent procedures.
Get a New Smile This Year
If you are ready to finally love your smile, now is the time to transform your teeth. Using cosmetic dentistry, you will start the year with your best foot forward with a flawless smile. Dr. Ganji provides the effective procedures you need to restore the appearance of your teeth. Contact Cosmetic & Family Dentistry today to schedule your consultation.